Bring mass-customized products to market today
Today's consumer products space is characterized by feature-rich designs and shorter product life cycles.  With part costs, build speeds, accuracy, surface finish and material properties finally rivaling injection molding, ETEC is disrupting traditional manufacturing of consumer products.  Additive manufacturing is a game changer – delivering unprecedented design creativity and business transformation through tooling-free manufacturing and a dramatically streamlined supply chain.
Whether you're looking for thousands of mass-customized figurines, hundreds of thousands of new sporting goods, or millions of custom midsoles, ETEC's printing systems and materials enable additive manufacturing of the broadest range of parts featuring ultra-fine features, incredibly crisp details, and best-in-class performance.
· Key Benefits
Industry-leading Materials
Through in-house developed proprietary materials and strategic partnerships with leading materials suppliers, ETEC's library of 190+ materials offers the broadest choice across hard plastics, high-temperature plastics, and elastomers.
Superior Part Economics
With best-in-class build volumes and throughput, ETEC printers produce superior parts faster, and at a lower cost, than conventional manufacturing methods.
Streamlined Supply Chains
With ETEC, you can match production rates to demand, minimize shipping and warehousing costs, and eliminate tariffs.
· Customers
Trusted by the consumer goods industry
· Quote
Sonova
This is truly cutting edge. … We create all of our custom hearing instruments this way ― which means millions of products for Sonova around the world in any given year.
Bill Lesiecki, Director of Business Services
Grant MacDonald Silversmiths
"ETEC printers have allowed, and continue to allow us to make the impossible, possible. 3D printing has become an integral part of our day-to-day silversmithing without taking away from the skill of the silversmiths. It has simply helped with every job and cut massive amounts of time on jobs. There is no going back."
Grant MacDonald, Founder
· Consumer
Example Parts
01
Hair Dryer Attachment
This is a hair dryer attachment used to concentrate airflow.
02
Perfume Bottle
A perfume bottle with texturing used for prototyping and market testing.
03
Vacuum Button
This switch is used for turning a small hand vacuum on and off.
04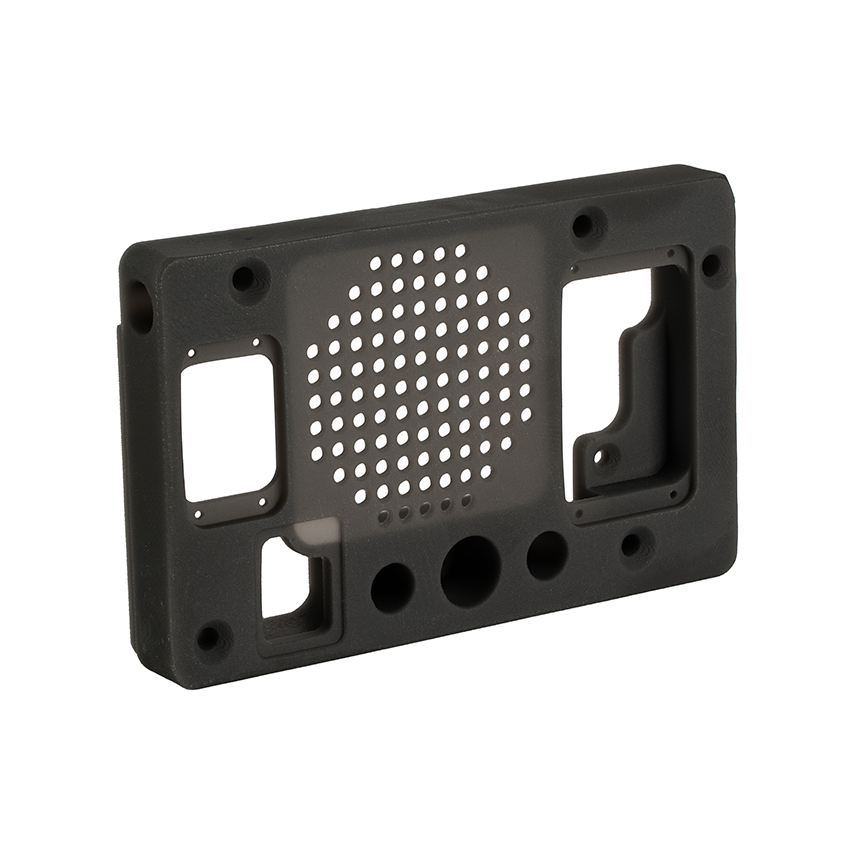 Electronics Housing
Half of a housing for a small electronics component.
· Systems
Our Systems
Printer technology
Build envelope
Models
XY Resolution
Z Resolution
Printer technology
Build envelope
Models
XY Resolution
Z Resolution

Digital Light Processing (DLP)
143 x 83 x 110 mm
Standard
25µm with patented pixel tuning
25-150µm

Printer technology
Build envelope
Models
XY Resolution
Z Resolution

Continuous Digital Light Manufacturing (CDLM)
180 x 101 x 175 mm and up
LT, XL
60µm with patented pixel tuning
50-150µm

Printer technology
Build envelope
Models
XY Resolution
Z Resolution

Top-Down Digital Light Processing Array
450 x 371 x 399 mm
Standard
100µm with patented pixel tuning
100-175µm

Printer technology
Build envelope
Models
XY Resolution
Z Resolution

Digital Light Processing (DLP)
249.1 x 140.1 x 165.1 mm
Standard
65 μm
25, 50, 100 μm